ASC specializes in security risk, threat assessment, protective tactics and strategies.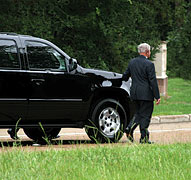 The company's experienced and intensively trained employees are capable of carrying out the highest level of security for executives and VIPs.
Mr. Krashinsky's personal involvement in all high-profile security assignments ensures that the highest standards are achieved.
Threat Assessment
Whether it is a known threat or a possible threat, ASC will assess the best security needs for the situation.
Protective Details
Whether it is a business meeting, a formal event or estate protection, ASC provides the manpower necessary to meet any agenda or criteria.
Advances
Trained professionals look ahead at the travel route before arrival to fulfill the obligation to provide complete safety.
Vehicles and Driving Security
Trained and experienced personnel ensure properly planned and protected escorts to the destination.
Physical Security
Quality and experienced personnel ensure the confidence needed for VIP, executive and celebrity protection in the day-to-day civilian environment – 24/7.
Corporate Executive Protection
Business security to and from the office according to the executive's agenda with chauffeur and courier services.
Violent Employees in the Workplace
ASC provides planning and personnel to protect your company, employees and property during downsizing, layoffs and strikes.
Special Event Security
Large or small events, business or personal, home or office, ASC caters to all aspects of event security needs.
Executive and VIP Protection Protocol
ASC's standards of protection, patrol and surveillance reflect the highest professional standards and are tailored to the executive's or VIP's working and living environment.