Advanced Security Concepts, Inc. has brought its top-of-the-line experience and service in executive protection to the field of gated community protection.
Client service, management accountability and thoroughly trained and well-supervised security officers are key to the success of the ASC community protection program.
Strict Supervision and Training of Security Officers
Inspectors and enforcement officers perform unannounced inspections at each location on an average of seven times per week. Inspections verify proper performance of duties, correct reporting procedures and professional appearance of the security officer. Rigorous training is conducted by ASC management staff and is administered in four stages: 1) in-office training for newly hired officers; 2) on-site training; 3) on-site monthly testing; and 4) unannounced on-site training, testing and inspections.
24-Hour Access to Management
Access to any management member is available any time of the day or night. Urgent messages are responded to within 15 minutes. The ASC philosophy is simple: If you are paying for services 24 hours daily, you should be able to reach ASC management 24 hours daily!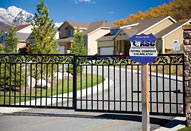 "ASC Tagma" Software
"ASC Tagma" is top-of-the-line software developed by ASC based on its vast experience. The software is customized to fit individual property requirements and provides greater accountability of all security matters through a sophisticated shift exchange report. It also provides an interactive map of the property that reports the status of all vital systems such as gas, water, lights and electricity.
Evacuation Plans
Detailed evacuation plans in response to fire, earthquakes, floods, etc., are designed for all of our communities. Each ASC security officer has been trained on an accredited CPR First Aid course.
Selection of Quality Personnel
Extensive background investigations are performed on every applicant. The screening process also includes assessment of the applicant's security experience, presentation, communication skills, report-writing ability and employment record. The ASC motto, "We are only as good as our guys in the field," is reinforced by an extensive employee benefits package that attracts highly qualified personnel and ensures employee retention.
Call for more information about the ASC community protection program at 818-906-3754.